2019 4th World Congress on
Energy, Environment and Sustainable Development
Aug. 12-14, 2019
Nanjing, China
Submission: Jul. 8, 2019
Notification:

20-40 days after the submission

Publication:

15-20 days after the final edition

Conference:

Aug. 12-14, 2019
The conference accepts English and Chinese articles.
Weather Forecast of Nanjing, China during the Conference
【Aug. 8, 2019】
The following is the weather forecast of Nanjing, China during the Conference, which will be updated regularly.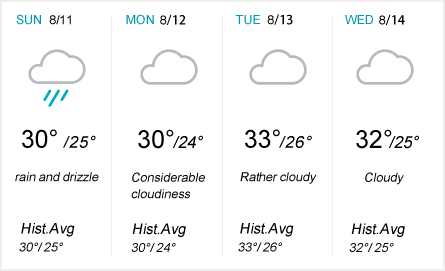 To know more details, please visit:
https://www.accuweather.com/en/cn/nanjing/105570/weather-forecast/105570
WCEESD2019 Will Be Held Together with ICASBIO2019 & ICFSNE2019 at the Same Venue
【Jul. 16, 2019】
According to the similarity among the topics of WCEESD2019, ICASBIO2019 and ICFSNE2019 , WCEESD2019 will be held together with ICASBIO2019 and ICFSNE2019 on Aug. 13, 2019 at the same venue of Nanjing, China. The following day, namely Aug. 14, 2019, is the time for the tourism. For more information, please visit: http://www.wceesd.org/2019/schedule
WCEESD2019 Call for Papers
【Sept. 20, 2018】
2019 4th World Congress on Energy, Environment and Sustainable Development (WCEESD2019) invites original and unpublished papers. The papers may include but are not limited to:
Energy: Solar Energy, Kinetic Energy, Potential Energy, Mechanical Energy, Mechanical Wave Energy, Chemical Energy, Electric Energy, Magnetic Energy, Radiant Energy, Nuclear Energy, Ionization Energy, Elastic Energy, Gravitational Energy, Thermal Energy, Marine Energy;
Environment: Geographical Environment, Geological Environment, Cosmic Environment, Regional Environment, Ecological Environment, Marine Environment, Investment Environment, Urban Environment, Native Environment, Secondary Environment, Market Environment, Hardware Environment, Software Environment;
Sustainable Development: Sustainable Agriculture, Sustainable Energy, Sustainable Transportation, Ecological Economics, Ecological Engineering, Corporate Sustainability, Sustainable Architecture, Sustainable Fishery, Sustainable Forest Management, Sustainable Land Management, etc.
If you have any interest, please submit your paper via the submission system: http://www.papersubmission.net
Copyright © 2016-2019 3rd World Congress on Energy, Environment and Sustainable Development - All rights reserved.